Types of Wood Destroying Insects
April 18, 2016
Insect infestation is quite common is, but they may not necessarily be harmful unless they are wood destroying insects. Wood destroying insects damage the home and even make it unsafe for habitation. The common cause of this activity may be excessive wood moisture levels. The moisture can be caused by plumbing leaks, roof leaks, and construction defects like wood-soil contact, unvented spaces, and attics. Generally, homes which have been built for long are more susceptible to infestation of wood destroying insects. However, any other house, whether old or new, is a candidate for infestation if they meet the conditions which invite wood destroying insects.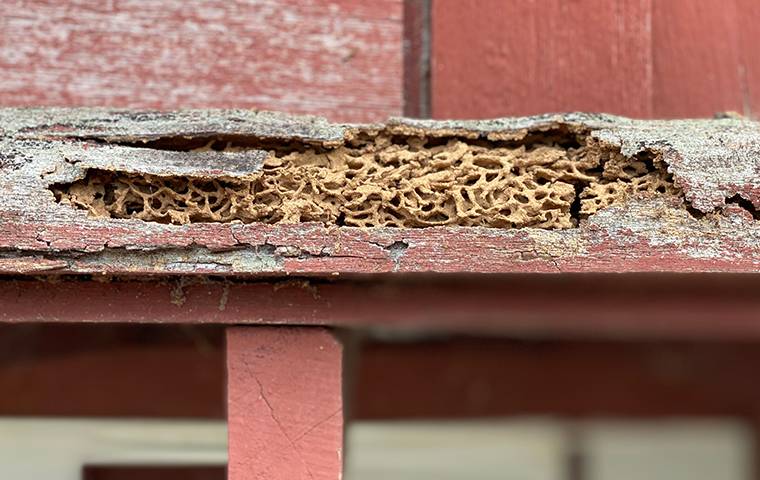 Below are the different types of wood destroying insects:

Termites
These insects are the most prevalent and also the most destructive of all wood- destroying insects. Termites are most common in warm environments, but can also be found in few localized areas as well. Termites, just like ants, are also a social and colonizing insect and within each colony, they have soldiers, reproductive termites, and the workers. The workers are the culprits who damage the wood. There are various species of termites, but the two most common are dry wood and subterranean termites.
Subterranean Termites
When wood is exposed to heightened moisture, the conditions are perfect for the subterranean termite. Also, wood close to the soil is prone to a termite attack. The workers build tubes or mud tunnels as a means of transportation for traveling between wood elements and the ground. The workers have the ability to conceal their activity, and this makes them tough to detect until their damage is visible. Most times the tunnels are the only way to detect their presence. Damaged dry wood or swarming winged termites are also an indication of termite activity. Formosan termites are a subterranean termite species which are very aggressive and have invaded some part of the southeastern United States.
The traditional treatment for these subterranean termites involves spraying a chemical barrier using termiticides or non-repellant pesticides, between the house and the soil. Termites going through this obstacle carry the toxic chemical and take it to the colony nesting areas, and the entire colony can be wiped out. A relatively recent approach to such termite treatment is baiting. These bait stations are arranged around the perimeter of the house when there is visible evidence of termite activity; a termiticide is then placed in that position. Bait stations can be used proactively, but in most cases they may be used in conjunction with conventional treatment where an infestation has been affirmed. Surface applied borates may also be used for termite infestation treatment. Conventional treatment, however, may not be feasible in some instances, such as when there is a well located near or within the foundation of the house or if the piping or heating system ductwork runs through a floor slab in the ground.
Drywood Termites
These termites are the most prevalent in warm southern coastal climates. The termites feed and nest inside the wood. They attack any dry wood in a structure and signs of their infestation include partially digested wood or small piles of fecal pellets. Spot treatment can be use, but only for limited infestations. However, in extreme cases, the house may need to be tented and fumigated to get rid of the termites.
Carpenter Ants
This ant, a relatively big black to the reddish-black ant, is the main infestation problem in so many areas. They nest in timbers and old tree stumps, and they often infest the house searching for food, and they can also nest within a home. Carpenter ants are attracted to wet environments and high-moisture areas. These ants do not receive nourishment from the wood they damage like termites. Carpenter ant damage is more localized and may not be as extreme as a termite infestation. While the treatment for carpenter ants may involve the entire house, in some cases spot treatment may be used or removing the wood which is attracting them or a surface applied pesticide, all these can effectively eliminate a carpenter ant infestation.
Beetles
There are various types of these wood destroying beetles, but the most common types are the wharf borers, powder post beetles, and the old house beetles. Each of these beetles have a different physical characteristics such as its shape, size, and color. Older homes are more likely to have a beetle infestation. However, it is possible to find a beetle infestation in a newly milled lumber which is used for furniture, or new homes and these can infest the home.
Adult beetles lay eggs in holes or cracks in the wood, and as they develop into their larval stage, they begin to bore through the wood and after a short period or even months, or it may be years, the larvae comes out as adults through some "exit" holes in the structure. The main signs of beetle infestation are fine sawdust-like frass which drop from the holes and their exit holes. In a lot of cases, despite the existence of these exit holes, the infestation may be the result of old activity. Spot treatment can be used on the infested area or application of a surface pesticide or paint will it from reoccurring. In severe cases of chronic re-infestation, the homeowner may need to fumigate to get rid of them entirely.
Carpenter bees
The carpenter bees are a bigger bee which is quite similar in appearance to the bumble bee. These bees create tunnels in wood, mostly in an exterior trim piece, and deposit their eggs. Carpenter bee is mainly a nuisance pest, but can cause structural damage if allowed to re-infest the same areas it previously re-infested. The major sign of its activity is a presence of an inch diameter holes with some stains below them. Sawdust piles can also be seen. Plugging the holes and spot treating will eliminate of most carpenter bee infestations in a home.
Alliance Pest Services has pest control programs to treat all your wood destroying insect pest problems in New Jersey.
Previous
Next