How Termite Bait Systems Work At Eliminating Termite Colonies
March 30, 2015
It goes without say that termites cause a lot of confusion and damage. Many homeowners have little knowledge about these devastating critters as well as how to effectively get rid of them. It is widely understood that termites have progressed significantly in recent years.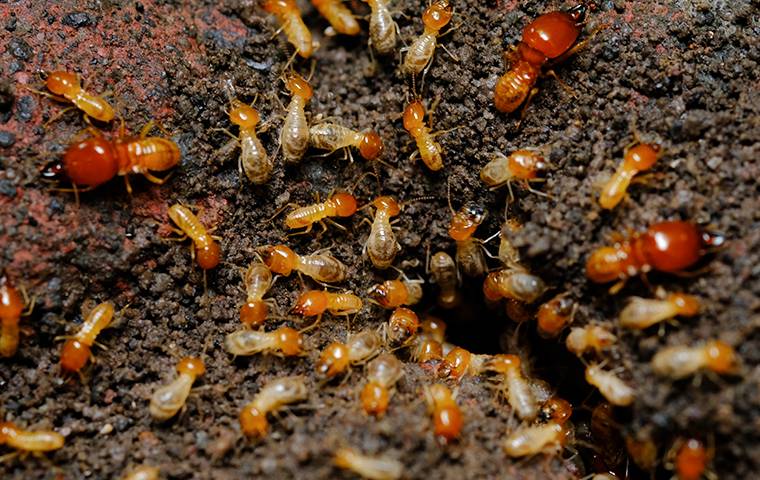 Newer and innovative management tools have emerged, and a good number of pest control services are now using bait systems as alternative forms of treatment. This article will help homeowners know more about bait systems so they can make informed purchasing decisions.
Waiting for termites to actually strike before you can eliminate them is probably one of the biggest and most detrimental mistakes homeowners can make. Your home is your sanctuary and an important dwelling. The potential damages posed by a termite invasion are too great and overwhelming for you to employ a sit and wait strategy.
A termite bait system is an in-ground monitoring system that is specially designed to eliminate termite colonies. The termite bait system is made up of several components that work collectively to control termite problems. The bait system comprises of a termite bait station, termite monitoring base, termite bait cartridge and termite inspection cartridge.
The termite bait station houses all the bait system's components. It has a Quick-Lock Cap that protects exposed portions of the station. The station can only be accessed using a tool known as a "Spider" which unlocks the tamper-proof lid covering the station.
If the termite inspection cartridge indicates the presence of termites, the termite bridge cartridges will come into place instead of the termite inspection cartridge to begin the bait process. Termite bait cartridges contain Puri-Cell tablets that are mixed with a potent termiticide Diflubenzuron which has about ¼ of the bait's weight.
Termite Monitoring
Termite monitoring ensures that your home is kept termite free throughout the day, and normally a technician will follow up and regularly check whether or not there are termites. Termite monitoring stations can be installed in strategic locations across your home, and they contain a toxin substance called Puri-Cell, an active ingredient that termites find irresistible than wood.
If termites do find their way into your home, the monitoring system will be your first line of defense.
Why Use the Termite Bait System?
The termite bait system is very effective at monitoring and controlling termite problems. The active ingredient in the system greatly reduces termite populations. The system has been proven to be more effective than other traditional methods of hunting down pests. The system is environmentally-friendly, meaning that it won't affect the ecosystem around it. It controls termite colonies faster, efficiently and more effectively.
How Does the Termite Bait System Work?
A technician will first inspect your home for any signs of termites.
The termite system is installed in the soil around the periphery of your home.
The technician will regularly check the station for any termite activity.
If termites are discovered in a station, the termite inspection cartridge (without active ingredient) will be replaced with a termite bait cartridge for termites to feed on the bait.
As the termites feed on the bait, they return to the colony and share the bait with other mates before sending more troops to feed on the bait. As they feed, more termites become affected and the colony begins to become decimated and eventually eliminated
Once the colony is totally eliminated, a new inspection cartridge will replace the bait.
Pros and Cons of Termite Bait Systems
Bait systems are increasingly becoming a preferred option of termite elimination as compared to other tradition methods. As much as bait systems have many advantages, they do have a couple of drawbacks. Your approach to a termite infestation will determine whether your succeed or not.
Pros of Termite Bait Systems
Termite detection stations are used without toxic chemicals to test for check for the presence of termites.
Bait systems only use a nominal amount of insecticide in target locations around your home. This makes them use a very eco-friendly approach to treating termite problems. In fact, bait systems can be used in certain situations where liquid termiticides are not allowed, like in areas around water sources that may get contaminated.
Bait systems are very easy to install around the house than it is to apply liquid soil treatment in the house.
Cons of Termite Bait Systems
Bait systems use slow-acting toxins unlike liquid termiticides that act more quickly to kill termites when applied in the soil. Depending on the size of the colony, the amount of interaction with the bait may not eliminate all termites, leaving some to continue damaging structures for months until the bait system eliminates them all.
A termite bait systems have to be monitored even long after the termite population has be suppressed.
With all said, the importance of treating a termite problem early cannot be emphasized enough. And you will need the right expertise and termite elimination system to achieve desired results.
Alliance Pest Services is your local termite control expert in Monmouth County, New Jersey. Call us today for free home inspection for all your termite questions and concerns.
Previous
Next