How Rain Will Drive Ants & Other Pests Indoors
July 29, 2019
When the rains come, homeowners are often left wondering how they can protect themselves from the onset of ants and various other pests. Rains falls onto creatures both large and small and when it does, these pests are always going to look for shelter. In most instances, a residential home will do just fine.
Even the most minor of storms can cause ants to come teeming into a residential home. Since ants tend to live in underground nests that are also quite shallow, they experience a great deal of flooding. All it takes is a quick storm that is over within minutes to flush these pests from their natural habitat. These floods cause ants to desperately search for higher and drier grounds. Once they have made their way into the home, they will usually set up shop inside of the kitchen. Their search for food and water leads them to these locations. Once the ants have made their way inside, they are going to become accustomed to their new surroundings.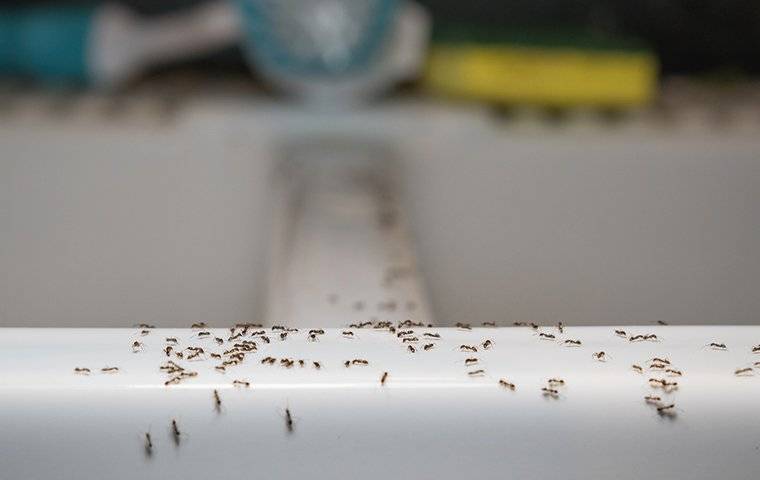 Most homeowners do not realize that ants and other pests of this nature are capable of leaving scent trails. Even when a homeowner does their best to flush them from the residence, these scent trails allow them to keep coming back over and over again. The scent trails give them the chance to return to their nest once the sun has come back out.
Every ant species is affected differently by the rains that force them out of their nests. For starters, the Argentine ant is going to be particularly difficult to get rid of. They will thrive in any region that has hot, dry summers and a cooler, rainier winter. Those who reside in western and southern states must remain vigilant when it comes to the presence of these ants.
Fire ants are also invasive by nature. Once a rainstorm occurs, these ants have been known to kick their nest building up several notches. They clean up their nests while the dirt is still moist and easy to use. Are there any visible soil piles after a rainstorm? When these soil piles start to show up on a residential lawn, this is a sure sign that fire ants have made their way onto the property.
The fire ant is an ornery sort and they must be removed from a property expeditiously. They will attack any source of disturbance, riddling them with painful stings. This includes any pets or people who have caused them to be disturbed. Therefore, most homeowners will contact the professionals after a rainfall has caused ants to enter their home.
Why Ants Go Inside When It Rains
It is important to remember that ants and other pests that are driven indoors by the rain have the same essential needs as any human. All they are after is food and shelter. While professional assistance should always be enlisted as soon as an ant population becomes noticeable, there are a few ways to remain proactive about these matters.
For starters, take the time to check door and window frames. If these frames have even the slightest crack, it could be a sign of a pest infestation. These cracks make it even easier for ants and other pests who are looking to make their way indoors. The foundation of the home should also be checked on a consistent basis. Ants and other pests will infiltrate any cracks in this location.
Is any vegetation actually touching the house? If so, it needs to be removed. Trash, leaves and grass clippings that are stored near the house will also attract ants and other pests that are looking for shelter in the wake of a rainstorm. Wood debris that is stored in the yard must be removed as well.
The kitchen is another common problem area that must be addressed quickly. Is there any food related debris in this area? Is the trash being taken out in a timely manner? Those who do not remove trash and food debris from their residence are essentially encouraging these pests to stop by.
Homeowners can put in the necessary effort but these steps are just a precautionary measure. They are not a substitute for the helpful assistance of a professional. In many cases, homeowners will work to remove these pests on their own, only to cause bigger problems over the long haul. That's why complete inspections are a necessity.
The professionals are able to examine areas of the home that would not be seen otherwise. They have the necessary experience and can draw on past infestations to come up with the perfect plan for each residence. After all, pest removal is not a one size fits all sort of thing. Each home needs a plan that is specifically tailored to its needs.
Store bought remedies may work well enough initially but, in most cases, the ants and pests that have been driven indoors are going to build up an immunity. Some homeowners may decide that they wish to remove the ants with a common spray, but these sprays do not account for the presence of the queen.
Alliance Pest Services
When the summer months arrive, rainstorms can cause any number of pest related issues. By taking the time to monitor the telltale signs and contact the professionals, a homeowner can avoid all of the usual pitfalls that are associated with rainstorms. When pests are not removed in a timely manner, the homeowner will only experience graver issues over the long haul.
Contact Alliance Pest Services for all your ant infestations problems. Learn more about our home pest control and commercial pest control solutions.
Previous
Next